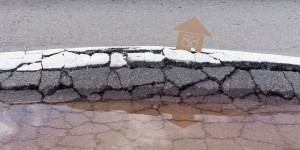 A common question we get at Lone Star Foundation Repair is whether homeowner's insurance will cover your foundation repairs, but the answer isn't so simple. Your homeowner's insurance will sometimes cover foundation repairs, but it entirely depends on how the foundation was damaged.
Damage Your Insurance WILL Cover
Generally speaking, insurance will cover damage that is the result of a catastrophic event. The nature of that event may change the amount of coverage, and some catastrophic events may not be covered by your specific policy. It's definitely a good idea to speak with your insurance company about these.
Natural Disasters
For the most part, insurance will cover foundation repairs that are the result of a natural disaster. Tornadoes, hurricanes, and other natural events will almost always be covered. Flooding and earthquakes, unless you've purchased that as part of your policy, might not be covered though.
Other Disasters
Falling trees, fires, and plumbing back-ups can also damage your home's foundation and these may also be covered by your insurance company. It will depend on the nature of the accident, of course, so it might be a good idea to check with your provider.
Damage Your Insurance WON'T Cover
Most homeowner's policies don't cover wear and tear, and--unfortunately--that's what causes the most foundation problems in East Texas. Homeowner's policies won't cover damage that they rule as preventable with routine maintenance, either.
Poor Drainage
Poor drainage hurts a lot of foundations in East Texas, and most insurance policies don't cover the damage from it. This is why it's important to solicit an inspection from a certified foundation repair company like Lone Star Foundation Repair.
Temperature Changes
The changing temperatures throughout the year are responsible for most of the foundation problems we see. The actual damage can be prevented with routine inspections and preventative maintenance, though.
Tree Roots
If roots penetrate your foundation because you failed to install root barriers on your home, insurance won't cover it. This isn't the most common cause of foundation damage that we see, but we do see it regularly in Texas, so have someone come take a look at your property.
Don't Wait Until It's Too Late
If you're concerned about your home's foundation, contact Lone Star Foundation repair to schedule a free inspection today. We'll have a technician at your home to help you understand if your foundation is in danger.
---