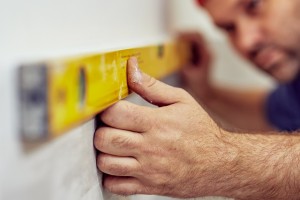 Major Causes of Concrete Slab Issues
Poor drainage is one of the major causes of concrete slab repair and slab leveling issues for East Texas structures. Whenever it rains or (rarely) snows, water moves into the soil and flows underground, washing away the dirt and rock that give it strength. After enough time passes, the soil washed away beneath your home or business can create empty pockets of air known as voids. If there is a void beneath your concrete slab, the slab will naturally sink by finding the path of least resistance.
If a void beneath your concrete slab goes undetected for too long, the problem cannot be solved by simple slab repair and slab leveling in East Texas. Instead, you might have to re-pour your entire slab – a costly and time-consuming process. That's why it's important you maintain constant vigilance as a property owner, ensuring these issues don't catch you off guard.
Identifying Concrete Slab Issues
If your concrete slab has voids, settlement areas, moisture buildup, or cracks, you may start to see problems elsewhere in your home. Some of these may include:
Ceiling cracks
Difficulty operating doors and windows
Brick and masonry issues
Leaning chimneys
Sloping and uneven floors
Cracks in floors
Cracks in walls
Problems with beams and posts
Garage cracks
Leaning walls
The moment you notice any of these issues, you very likely have a foundation problem. Hopefully you catch it when it first starts, or else you might be in for a lot of headache. Either way, it's critical you contact a highly qualified concrete slab repair specialist in Longview or Tyler for a free inspection and to answer any questions you may have.
Repairing Concrete Slab Issues in East Texas
If your concrete slab has settled in areas, one of the best solution foundation repair experts in East Texas utilize is helical slab piers for concrete slab leveling. These helical piers can support upwards of 20,000lbs and are able to raise the cracked area of your concrete slab to its original, intended elevation. A professional slab repair team can install them easily with little to no vibration or disruption to the rest of your home.
Concrete Slab Repair and Slab Leveling Experts
The Lone Star Foundation Repair team has served the East Texas area with high quality slab repair and slab leveling services for years, putting our expertise to work when fixing your home's foundation issues. We know that every home is different, just like every concrete slab needs different techniques to bring it back to its most solid, reliable state. That's why we're committed to safety and ensuring that your concrete slab in Longview, Tyler, and elsewhere in East Texas will last a lifetime.
Our team adheres to the highest industry standards on our East Texas slab repair and slab leveling services. We strive to be the industry leaders in the region, utilizing state-of-the-art products and techniques on your home's concrete slab. For more information on all our foundation repair services, contact Lone Star Foundation Repair today.
---