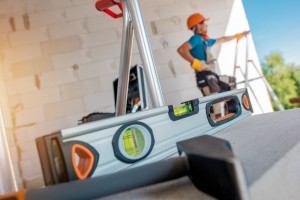 Is your Longview Home's Foundation Sinking?
Take a minute out of your day to walk around your home. Cross from one side of each room to the next and see if you feel anything out of the ordinary.
Did it seem like you were moving uphill or downhill? If the answer is yes, your foundation may be in need of serious work.
However, leveling your home in the Longview, Texas area may still be necessary – even if you haven't yet felt a sloping floor. With a proper understanding of leveling a house and repairing a foundation, you'll be one step ahead of any potential threats to your home.
Signs of a Sinking, Shifting Home Foundation in Longview
There are usually a handful of telltale signs of sunken concrete slab foundations homeowners in Longview can spot with even a cursory glance. The first of which is the most obvious: when you look at the concrete around your home, you can clearly see it is sinking into the soil.
The next few are not so extreme, but often go overlooked by homeowners:
Your flooring is cracked, bumpy, or uneven
The soils around your structure regularly wash out from beneath the concrete after rainfall
Dips, domes, or moisture pools in your flooring
Many Longview area homeowners also own pier and beam structures that have their own sets of problems. The majority of pier and beam-style homes have crawl spaces beneath their structures with concrete blocks or other footings that can sink into the soil beneath them or become damaged over time. Even if you have access to this crawl space, you may want to call in an expert house leveling and foundation repair specialist in Longview before you venture down there yourself.
While it's true that we live busy lives here in East Texas, a vigilant homeowner in Longview will notice house leveling or foundation damage issues long before they become too severe to correct.
Expert House Leveling and Foundation Repair Services in Longview
When you know you need to level the foundation of your Longview area home, you may not know where to start. The idea of your whole structure sinking into the earth below it can seem daunting at first, but with the right tools, materials, and techniques, it can be handled with ease.
At Lone Star Foundation Repair, our crew has decades of collective experience raising sloped floors back to their proper heights. Each member of our team provides the utmost professional service as they work tirelessly to ensure your structure is on level ground.
The first step is to provide a thorough evaluation of your home and its foundation. By determining whether or not you need house leveling or a total foundation repair service in Longview, we can then utilize the appropriate tools for the job. We offer a selection of piers including cost-effective concrete piers, combination concrete and steel piers, and the incredibly strong steel pier backed by extensive warranties.
For more information on house leveling and foundation repair in Longview, Texas, call the experts at Lone Star Foundation Repair today!
---