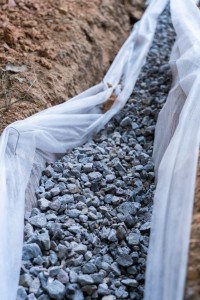 French drains are an excellent investment to eliminate damaging groundwater that will pool around your slab and cause foundation issues in Texas.
Homeowners should take advantage of the warm weather and soft ground to install this draining system for year-round benefits. As a foundation repair company with decades of experience in East Texas, we can't recommend the French drain enough.
How Does a French Drain Work?
French drains collect water pooling at the surface level and excess moisture within the soil through a system of underground drains, rocks, and a special filtering mesh.
Step 1: Planning
You have to plan a route from where water generally pools to where you want it to be drained.
Step 2: Installation
You'll need to dig a shallow channel the length of this path, install the pipe, mesh coverings, and stones. You'll want to incorporate a slight downhill slope to the run-off area so the water can continually flow out of the drain.
As gravity pushes rainwater downward, the mesh acts as a sieve so dirt and debris can't enter the pipe of your French drain. Water that enters the system will follow the route you've chosen.
Step 3: Camouflage
Once the French drain is installed, you can replant grass or sod over the system or cover it with rocks. Enjoy a low-maintenance water drainage system that no one will even know is there.
How Does a French Drain Benefit My Concrete Slab Foundation?
It's normal for your foundation to have some shifting and settling over the years. However, if constant moisture makes your home's foundation unstable, you will eventually have to invest in professional foundation repair.
As the structure's weight presses down on the house's foundation, the foundation will continue to sink into overly soggy soil.
You may begin to see warning signs of foundation problems like door frames and window frames that are hard to close, cracks in the floor, ceiling, or walls, and uneven flooring.
The French drain may seem too simple to be effective, but removing excess groundwater can be the difference in a healthy foundation or slab repair in Longview, TX.
How Does a French Drain Benefit My Pier & Beam Foundation?
As anyone who's worked for a house leveling company will tell you, keeping the crawl space underneath a pier and beam home dry is not only helpful to your foundation but also to anyone who has to go underneath the house!
Similar to slab foundation repair, excess moisture can have costly consequences to pier and beam homes. Mold, insects, and rotting wood are all possibilities if your home's foundation sits in saturated, humid soil.
Schedule East Texas Foundation Repair
Lonestar Foundation Repair is committed to excellent customer service in house leveling and foundation repair.
If you're unsure if you need slab leveling in Longview, TX, or the surrounding East Texas area, give us a call, and we'll talk through your concerns. Whether it's sticky doors and windows or major foundational cracks, no question is too big or too small.
We are proud to offer affordable foundation repair in Longview, TX, Tyler, TX, and the East Texas area. Call today for your free estimate!
---