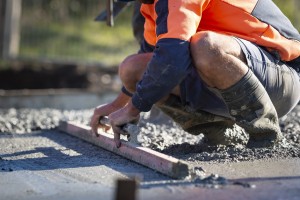 End Cracks & Foundation Issues with Lonestar Foundation Repair
If you are beginning to recognize warning signs of foundation problems like hairline cracks in your sidewalk or interior sheetrock, then it's time to call Lonestar Foundation Repair.
We halt fractures in their tracks, along with identifying foundation settlement and other signs of foundation issues.
Here's Why You Might Need Foundation Repair
Shifting clay, sand, or loam-type soils under East Texas foundations are the reason so many homeowners call us for foundation repair services. We make repairs using helical piers and steel piers for house leveling.
The average daily high temperature in Tyler is 87 degrees or above. Such high temperatures, combined with about 46 inches of rain per year, can cause concrete slab damage.
Plumbing leaks can also cause slab fractures that can require a professional foundation repair company to fix.
Here's How Professional Slab Foundation Repair Solves Your Problems
Slab leveling makes your home's foundation level, stopping foundation damage.
When you've completed concrete leveling, gaps and cracks will close.
Damage caused by sinking, sloping and foundation heaving is reversed.
With your foundation at the correct elevation, problems like hard to close door frames and window frames can be repaired. Spaces around doors and windows can be eliminated, allowing your home to hold heating and cooling more effectively.
The Pros and Cons of Slab Repair in Longview, Tyler, and the Surrounding Areas
Pros:
Unlike pier and beam foundations which are elevated, concrete slab foundations make it virtually impossible for rodents to enter your home from the foundation.
Concrete slabs don't have wooden components and hollow spaces, so there is no concern about termites or other insects eating away at your foundation.
Concrete slab foundations don't require steps or stairs since they are level to the ground.
Cons:
Plumbing issues sometimes mean breaking the concrete slab before it can be fixed.
Moisture around the concrete foundation gives it room to contract and expand with changing temperatures, so you have to maintain some level of moisture in the soil.
Tree roots can grow underneath the slab and create problems, so you have to landscape with that in mind.
Schedule Foundation Repair
Lonestar Foundation Repair, LLC is locally owned and operated in East Texas. When you schedule foundation repair with Lonestar, you can rest assured that you will receive professional, efficient, and honest service.
Your home is the most important investment you will ever make. Be sure you're trusting your home's foundation to the trustworthy team at Lonestar Foundation Repair. To schedule your free consultation, give us a call today.
---