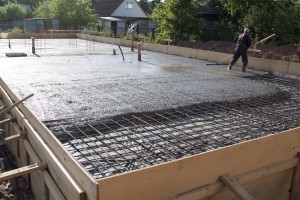 If your home or business was built atop a concrete slab, you likely enjoy the sturdiness and support such a structure offers you every day. You can move yourself and objects around without creating too much noise, and fears of damaging the foundation itself are far smaller.
However, while concrete slabs are often appreciated more than pier and beam foundations for some home and business owners, slabs still go through a range of issues over time. These can arise from poor construction, water damage, soil erosion, and more. A vigilant property owner must keep their eyes open for the tell-tale signs we've discussed in previous blog posts that indicate ongoing foundation damage issues. And with a team of expert slab repair technicians in East Texas on your side, you'll do fine.
Slab Foundation Issues in East Texas
As soon as you detect cracks or moisture in your floors and walls, or notice windows and doors no longer working properly, you may have a foundation damage issue on your hands. And it's a good thing you detected them when you did – slab repair issues that go unnoticed for too long can lead to repair costs in the many thousands of dollars that many property owners can't bear.
You can actually check the strength of your concrete slab in a few simple ways. A concrete slab should be extremely strong, so hard that you can't damage it without considerable effort and powerful tools. However, if you are able to chip or break off a piece of your slab by simply poking at it with a screwdriver, there's a good chance the concrete itself is deteriorating.
Your first thought may be that you have a water leak or soil issue beneath your concrete slab. While this may be the case, it's not always the number one culprit. Depending on the age of your home, your slab may have been constructed from a poor mixture – the concrete crews of the early 20th century often mixed salty sand or too much water into their concrete, reducing its durability over the years.
If this is the case, you'll likely need significant restructuring of your home's foundation.
Slab Foundation Repair in East Texas
At Lone Star Foundation Repair, our team of fully insured concrete slab repair specialists can help you out of any jam. With us on the scene, we can identify your home or business slab repair issues and help you address them long before they become more serious problems. Through the use of concrete or steel pilings, we'll ensure the weight of your home is properly supported and evenly distributed across your concrete slab foundation – that way, any sloping will stop dead in its tracks.
You know your property is one of the biggest, most important investments you've made in your life. And if you have a damaged concrete slab foundation, it can spell a lot of trouble for that investment. Call Lone Star Foundation Repair today to learn more about our commercial and residential concrete slab repair services. You can also check out our recent blog post to find out how you can keep your home's foundation in perfect shape throughout the summer heat!
---