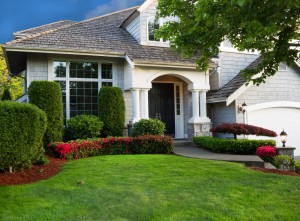 Protecting your home means protecting your foundation. Not all foundation problems can be prevented, but many of them can with a few simple measures. For the most part, ensuring that your home has good landscape architecture is the most time and cost-efficient one for homeowners to do.
Since most foundation problems in East Texas arise from weather conditions, ensuring that your landscape is prepared to handle the inclement weather typical in the region can go a long way towards keeping your foundation stable. This helps ensure that your foundation doesn't need repairs in the first place.
There are 5 key things you can do:
Grade Your Landscape
When foundations are damaged, water is the culprit 9 times out of 10. This means that protecting your foundation from excess moisture, standing water, and flooding is going to be one of the best ways to protect it.
One of the best ways to keep water from accumulating around your foundation is to ensure that the slope around your home promotes proper water drainage. Generally speaking, we think that a slope of about 6-10" is good.
Leave Your Foundation Exposed
The more soil covering your foundation, the easier it is for water to find its way beside it. Leaving your foundation exposed can promote the evaporation of water by circulating more air. This will dry your foundation and keep moisture from cracking it.
You don't need to leave the whole foundation exposed, though. A few inches all the way around your home is going to be plenty. If you're a gardener, it may be a good idea to plant drought-resistant shrubs and flowers around your home, too. They won't need as much water, and water won't have a chance to get close to your foundation.
Maintain Soil's Moisture
After hearing that water is the biggest cause of foundation problems, it may be tempting to keep the soil around your home bone dry. Unfortunately, this can cause problems, too, because dramatic changes in the soil can lead to ground shifting--another leading cause of foundation problems.
This is especially true in Texas summers, where drought and heat dramatically alter the soil around your home. The best way to prevent these changes is to keep your soil's moisture consistent throughout the year. This will prevent the soil from moving, which in turn will prevent cracks and shifting.
Keep Tree Roots At Bay
If moisture is the number one cause of foundation problems, the root systems of trees are a close second. Roots can cause a lot of problems for a foundation if they get too close. This means you'll either need to move those trees away from your home or prevent the roots from getting close in the first place.
A root barrier can help. It will keep tree roots from getting close to your home. Tree removal can sometimes be a little bit simpler, but you'll lose the shade and natural beauty that the tree provided your property.
Improve Your Gutters & Drainage
Replacing, repairing, and keeping your gutter kept up is the single best way to prevent water from getting to your foundation. Appropriately maintained gutters will drain water away from your home. Your drainage system is a fundamental aspect of protecting your home's slope, so protecting it is essential to protecting your foundation.
As the premier foundation repair company in East Texas, we can attest that these 5 simple things will help protect your home's foundation. If you're looking to get a free home inspection, contact us today to schedule a time.
---